Dopesplay 15.6-inch Lapdock Review(come in Aug)
✅ 15.6″ Diagonal Display
✅ 1920 x 1080P FHD Resolution
✅ Bluetooth 4.1
✅ 12,900 mAh Built-in Rechargeable Battery
✅ Built-in Keyboard
✅ 10 Point Touchscreen
✅ Wired or Wireless Connections
✅ 15W Wireless Charging Pad
✅ Aluminum Alloy Cover Lid
✅ 360 Degree Flip Screen
What's In The Box?
Dopesplay DR-158W Ultradock monitor
Power brick
USB Type A to Type C Cable
USB Type C to Type C Cable
Braided USB Type C to Type C Cable with L Connector
Full Size HDMI to Mini HDMI Cable
Build Quality & Design
The design and build quality of the DR-158W is decent step up from my previous model. It has an aluminum-alloy cover lid, with other elements consisting of ABS + PC, which brings the total weight to around 4.3 lbs or 1.9 kg.
The top of the ultradock monitor has the Dopesplay logo, and the bottom has rubber feet to prevent sliding. It's a pretty clean and sleek-looking design.
Looking at the front of the portable monitor, there is a wide cutout below the lid to allow you to lift the screen up. It is noticeable friction, so I had to use two hands to do this.
There are small rubber feet to help prevent the lid from getting scratched when closed.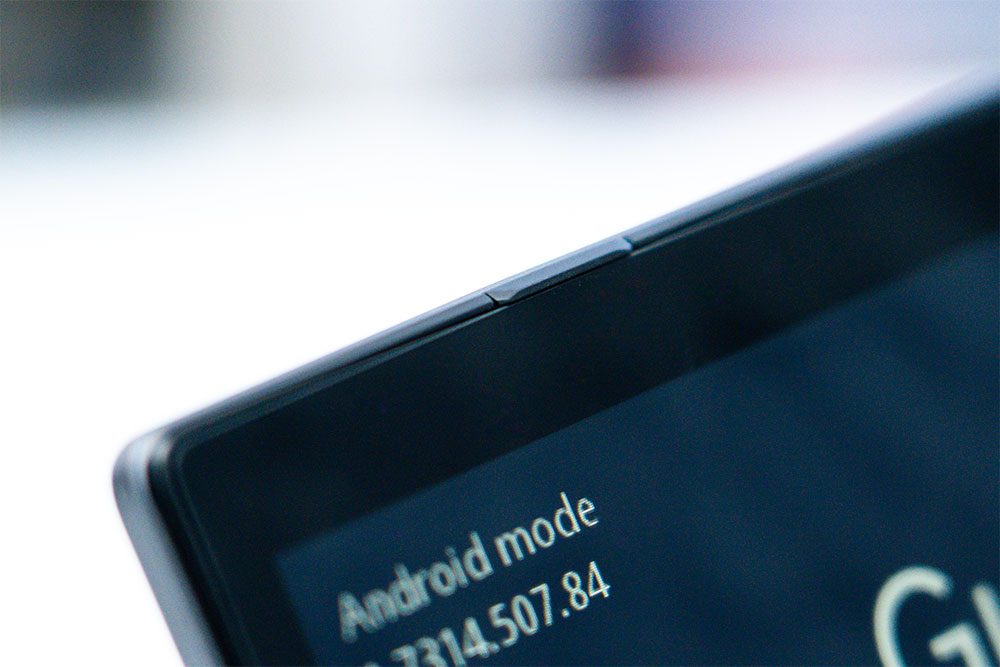 When opened, using a small cut-out in the metal frame, you'll find a laptop-style keyboard layout and a built-in trackpad to the right of the keyboard. The keycaps have the same type of travel distance you would find on most laptops, complete with an Fn key.
Just above the number row on the keyboard is a 15W wireless charging pad that comes in handy, and above that are two speaker grill cutouts.
There are also some status LEDs located just above the Esc key.
DR-158W Ports & Inputs
The right side of the monitor contains a slightly recessed power button, micro TF card slot, USB Type A Port and 3.5mm headphone jack. The left side includes two, Type C ports and a Mini HDMI port.
Monitor Adjustability
The hinge has pretty good friction, allowing the monitor to be angled in any range, up to 360 degrees, so it can lay perfectly flat.
Productivity & Workflow Efficiency
The DR-158W pairs well with phones and other devices. I plan on using it with my 17″ laptop to have a second screen for productivity or just to have some YouTube playing in the background while I work, and it works perfectly for that. Once I connected it to my laptop using the HDMI to Mini HDMI cable, I could set the monitor layout in Windows and drag my browser screen over to it. The 15.6″ screen is nearly close to the screen size on my 17″ laptop, thanks to thinner bezels while taking up much less space.
The screen is bright enough for indoor use but likely could be more usable in sunny environments, so be sure to limit use indoors or in shady areas.
If you like to work at night, you can dim the screen to be easier on your eyes and turn on a backlight for the keyboard.
I also used the DR-158W as a larger display for my Samsung S23 Ultra, using the SmartView app in my quick pull-down menu. It's incredible how quickly and easily it worked!
I could wirelessly charge my phone simultaneously using the built-in battery on the monitor. Of course, you can also charge earbuds or anything else that charges wirelessly. Just a heads up to be mindful not to leave your phone charging for prolonged periods because you run the chance of draining the built-in battery. If you leave the monitor plugged in, you can leave your phone charging as long as you like.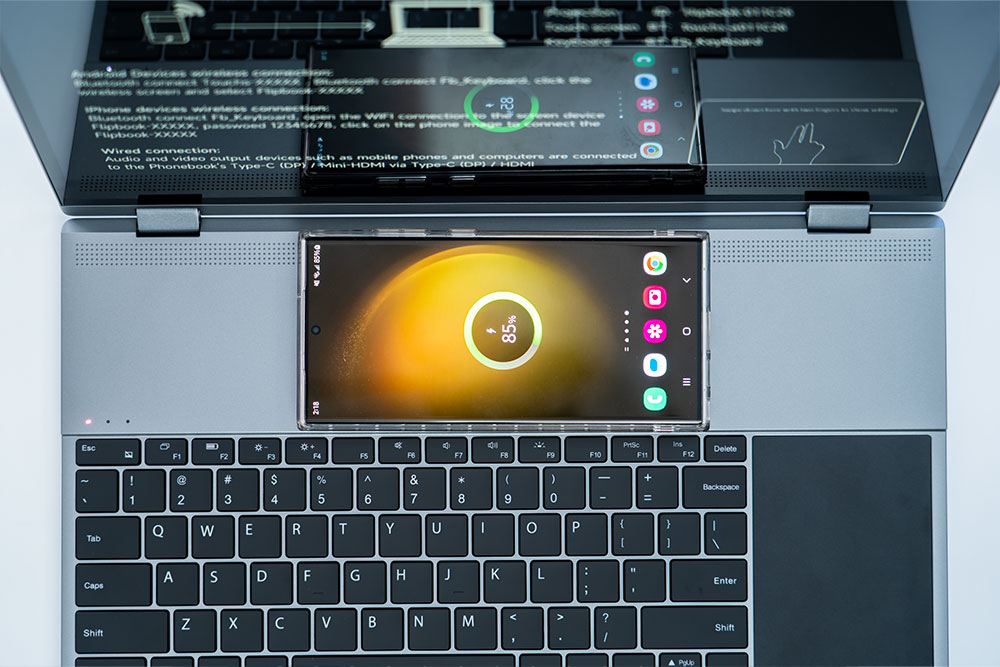 Thinking of Gaming?
It's doable to connect a PS5 or other console using the HDMI to a Mini HDMI cable for gaming while on vacation or in a pinch if someone else in the family is using the big TV. However, the screen refresh rate is not suited for competitive gamers. I foresee taking this to a hotel room while I work on my laptop or to get some gaming in since some hotel TVs do not have easy access to the HDMI ports or have limited HDMI connectivity.
Speaker Quality
The speakers get pretty loud, again for indoor use. However nothing especially standout about the sound performance, but that is a minor deal for me because I plan on using the monitor as a secondary display most of the time.
By the way, remember that this has a 3.5mm headphone jack built-in! It's such a relief to see that still being included when the trend is forcing everyone to use Bluetooth for sound.
Do I Recommend The Dopesplay DR-158 Ultradock Portable Monitor?
If you only want a basic external monitor, there are cheaper options. However, if you want an external monitor that doubles as a dock, has built-in speakers, a headphone jack, and the ability to wirelessly charge your devices, connect wirelessly and use it on the go with the built-in battery, you won't find many other full-featured options like the Dopesplay DR-158W Ultradock Portable Monitor.
Having a built-in rechargeable battery alone is a feature I've used multiple times because it simplifies my setup. I can easily take the DR-158W to a friend's house, and instead of showing them something on my phone screen, where everyone has to get around it to see easily, I can activate SmartView on my phone and have a 15.6″ display while my phone also charges. The ease and simplicity of that alone are worth it for me. Couple that with using it as a standard external or secondary display for my laptop, and it's just great value for me.
Just be sure you have adequate desk space to accommodate it because it is like having a smaller laptop on your desk. However, you can fold it completely flat and prop it up in a tablet holder to minimize its footprint if you don't need to use the keyboard or trackpad.
There is an Indiegogo campaign for the DR-158 Ultradock that you can check out here.
If there is anything that I missed in the review, or if you have any questions that I did not cover, please leave a comment below.